NAOMI LONG MLA VISITS THE JUNCTION IN SUPPORT OF WOMEN'S RIGHTS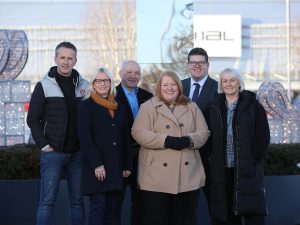 Stephen Kelly, Creative Director at c21 Theatre Company, Arlene Creighton, Communications and Engagement Manager at Women's Aid ABCLN, John Blair MLA South Antrim, Naomi Long MLA East Belfast, Chris Flynn, Centre Director at The Junction and Denise Stewart, Store Manager at Starbucks pictured at The Junction Retail and Leisure Park.
Naomi Long MLA visited The Junction during December to meet with the Centre Management Team, c21 Theatre Company and Women's Aid to discuss how the arts sector is helping with women's rights and the important role gripping productions such as 'Brenda's Baby' can play in these issues.
Whilst in the position of Justice Minister, Naomi passed a new offence within Domestic Abuse and Civil Proceedings Act (Northern Ireland) 2021 which means protection is no longer limited to physical abuse.
Running alongside the production of 'Brenda's Baby' earlier this year was a number of workshops in association with Halifax Foundation NI and Women's Aid where the public could watch live excerpts from the play as well as a panel discussion, raising awareness on the reality of domestic abuse.
Passionate about these issues, The Junction team were delighted to host a workshop onsite at the Antrim scheme and provide a local outlet for the production and panel discussion.
For more information please contact: Niamh Donnelly, MCE niamh@mcecomms.com
Notes to Editor:
'Brenda's Baby' is available to watch in a four-part series via c21 Theatre Company's YouTube Channel.
For more information on c21 Theatre Company visit www.c21theatrecompany.com
For more information on Women's Aid visit www.womensaidni.org